Personal Profile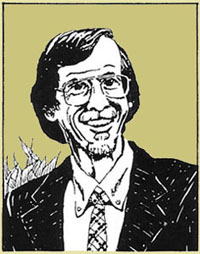 David P. Burkart
was born in Wisconsin in 1941 and descends from German immigrants who settled in that state in the 19th century. After moving with his family to Florida, he attended the University of Miami on scholarship, earning an AB degree,
Cum Laude
, with a major in Commercial Art and a minor in History.
He has 45 years of design consulting experience, providing clients with interior, exterior, exhibition, and signage designs. He specializes in "dimensional media" as opposed to print media. Over the years, Dr. Burkart has mentored scores of entry level design graduates, teaching them industry standard protocols and design and detailing techniques. His fine and applied arts and crafts work is in private collections and some examples of his commercial work can be viewed at his business website:
www.alembic-enterprises.com
.
In the early '70s, David developed an interest in the burgeoning field of distance education, researching providers and building an extensive resource base of print bulletins which he archived. In the '90s, he decided to affirm his advocacy for independent, innovative, and self-validating distance learning schools by earning an advanced degree from one. In 1997, he was awarded a doctorate in Applied Arts and Design by Farelston & Nova Colleges, Alberta, Canada.
Over the years, Dr. Burkart also developed diverse concurrent personal interests to a professional level. His lifelong interest in botany and botanical remedies expanded to include other alternative therapies and modalities, resulting in his work as a naturopathic researcher, advocate, and educator for holistic, natural health care as well as a botanical illustrator. He was an advisor to the President and past adjunct faculty member of Columbia Commonwealth University in applied arts, medieval history, and heraldry, and is now on faculty of Knightsbridge University. He is active internationally as a heraldic artist and consultant and member of advocacy and research organizations in the field.
International networking has led him to many friendships and to voluntary positions of advocacy, including diplomatic appointments. Dr. Burkart currently serves as High Representative to USA for the Principality of Hutt River and is also Earl Marshal of the well known micro-state located in Western Australia, heading its Royal College of Heraldry.
In 2009, Dr. Burkart became an advisor to the Executive Chieftain of the Republic of Timucua, a microstate that includes Native Americans and others supportive of the rights of indigenous peoples and protection and preservation of the natural environment. He represents the group in Southern Florida and the Bahamas, holding the honorary title of Ambassador to the Miccosukee and Seminole Tribes, as well as the Conch Republic.
Dr. Burkart retired in 2008 from active administrative and fiduciary responsibilities in the alternative education field to pursue other interests, but he plans to continue his consulting activities in that area.